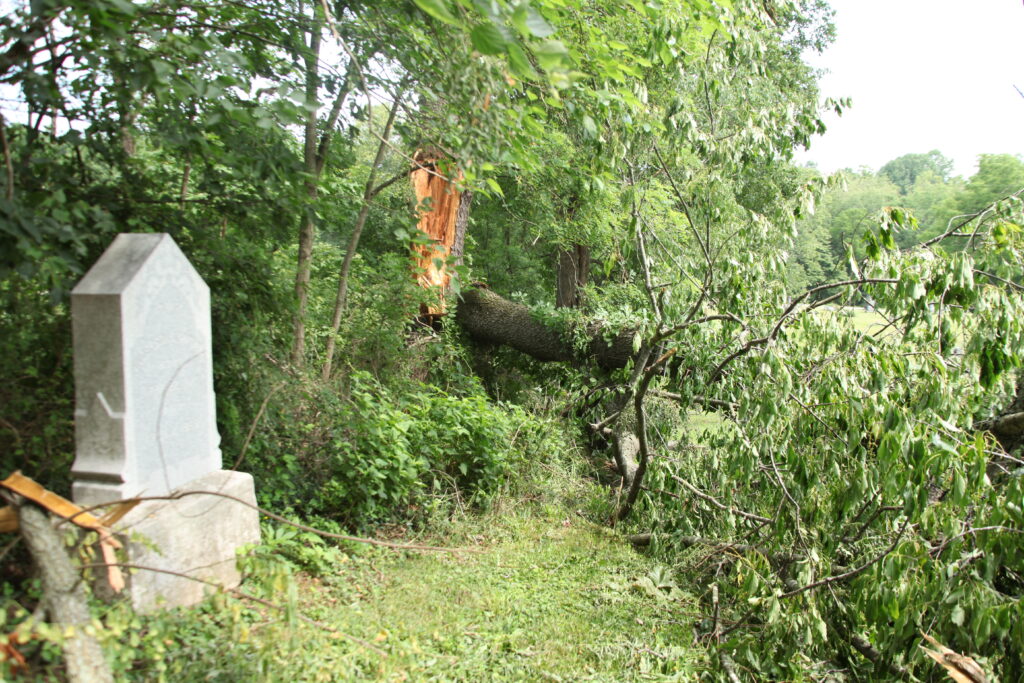 Storms damage trees, but not buildings
UPDATE!
We received numerous donations (one single donation was for $2,000!) to cover the costs of cleaning up the properties after the June thunderstorms! The HEC Board of Directors wishes to thank everyone who helped out; we are humbled by and extremely grateful for the support we receive from people in Jefferson County, throughout the State of Indiana, and elsewhere. We really couldn't do this without you.
_______
Severe thunderstorms at the end of June downed trees and left many homes in the Lancaster and Dupont areas of Jefferson County, Indiana, without power for hours and in some cases days.
Many large trees and branches fell on properties owned by Historic Eleutherian College Inc., board President Jan Vetrhus said Tuesday. Vetrhus and other board members toured the properties at the College, the Hoyt House, and College Hill Cemetery, just north of the college building.
"We are fortunate that none of the structures suffered damage," Vetrhus said. "But now we will have to hire professionals to remove the large trees and branches and clear up the properties."
HEC operates on a shoestring budget, primarily funded by grants and donations. This cleanup effort is an unbudgeted expense, she said, and added that any donations to help defray the costs would be greatly appreciated. (Donations are accepted by mail and also via PayPal.)
The most downed limbs fell onto the Outdoor Classroom next to the College building, which was built with the help of a grant from the Lilly Foundation in 2021. A large cherry tree fell into the College Hill Cemetery just north of the College; none of the headtones, many of which date back to the mid-1800s, appear to be damaged.