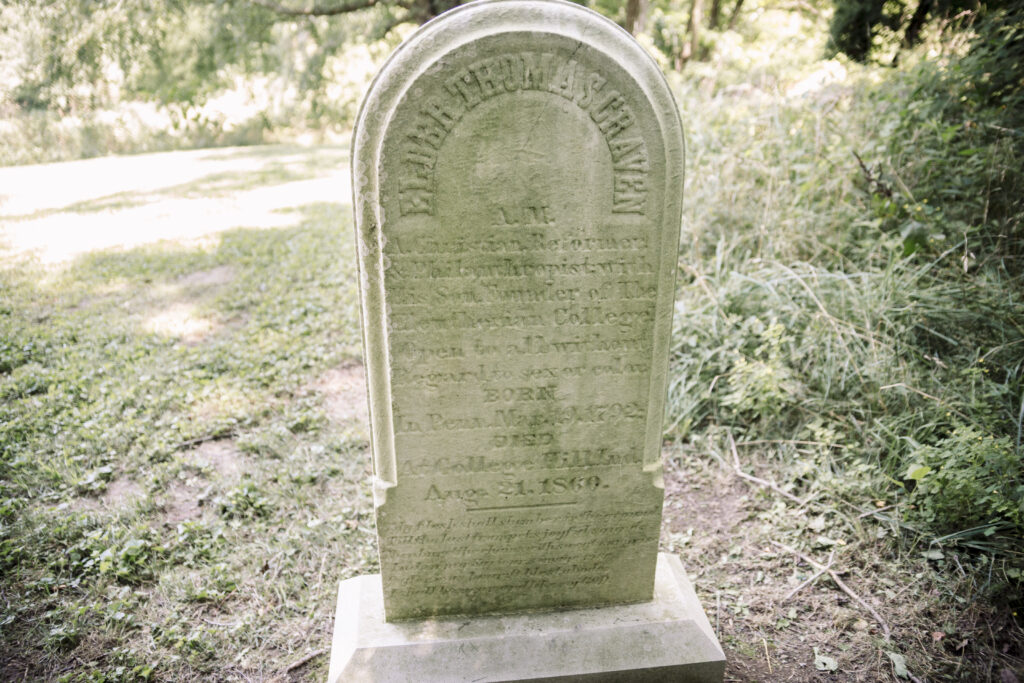 Founder Thomas Craven
Eleutherian College likely would not have existed if not for the perseverance of a Baptist minister from Oxford, Ohio.
Elder Thomas Craven, born 19 March 1792 in Westmoreland, Pennsylvania, to the Rev. Thomas Lindsey Craven and the former Eleanor Adams, was described as an adult of average height –– probably 5 foot, 7 inches, or maybe a little taller –– with blue eyes and brown hair. One of seven children, he moved with his family to Indiana County, Pennsylvania, in 1795. He attended school in Pennsylvania for a total of nine months.
His father, Thomas Lindsey Craven, was a blacksmith who served in the Revolutionary War. His mother, Eleanor Adams, immigrated to America with her family when she was 12. She died in 180 when Elder Craven was 12 years old. His father died in 1832 when Craven was about 40.
Elder Craven served as a captain in the War of 1812. According to an application to the Sons of the American Revolution, submitted in 1908 by a descendant, Alfred Milton Craven, the senior Thomas served as a private in a Warwick Township company based in Berks County, Pennsylvania, during the Revolutionary War. In the compilation, "North America, Family Histories, 1500-2000," by the Daughters of the American Revolution, Thomas and his company were at Trenton, Germantown, Princeton, and Valley Forge. Born in 1756 in Berks County, he died in 1832 in Indiana County, Pennsylvania. 
When he was 20 years old, he married Rebecca Selfridge on April 14, 1812. Born in Northern Ireland in June 1789, Rebecca was nine years old when she came to America with her parents, Thomas and Mary (Smith) Selfridge.
After the war, Elder Craven moved his family west, traveling down the Ohio River and eventually setting in Franklin County, Indiana, while Indiana was still a territory. He later moved the family to Oxford, Ohio, where he attended college after his children were raised to adulthood. He graduated from Miami University at the age of 51. His son, John Gill Craven, was a fellow student at Miami and also graduated from that university.
Elder Craven then became a circuit preacher, traveling as far as one hundred miles to preach his abolitionist-leaning sermons. He spent much time in Lancaster, Indiana, and was the catalyst behind the establishment of the Neil's Creek Anti-Slavery Society and the Neil's Creek Anti-Slavery Baptist Church. 
The Anti-Slavery Society, formed in the mid-1830s, went on to establish Eleutherian College, which began admitting students in 1848 and continued to do so until the advent of the Civil War in 1861.
The school is remarkable because its mission was to educate anyone who wished to learn, regardless of their skin color or gender. Only a handful of institutions offered such opportunities: Oberlin College in Ohio, founded in 1833 by Presbyterians who allowed Blacks to attend starting in 1835; Wilberforce College, also in Ohio, founded in 1856 through a collaboration of the Cincinnati Conference of the Methodist Episcopal Church and the African Methodist Episcopal Church; and Berea College in Kentucky, founded in 1855 as the first non-segregated college in the South to educate both female and Black students.*
Thomas and Rebecca moved to a farm at College Hill in Lancaster, Indiana, after the 1850 census, and lived there until Thomas's death in 1860 and Rebecca's death in 1868. Their farmhouse, which stood on land behind the existing Eleutherian College building, was a modest two-story home. Documents show that the first floor contained the kitchen, pantry, fireplace, and living quarters. A staircase led to the second floor, which consisted of a hallway, three bedrooms, and another staircase to the attic. 
The couple was survived by their son, John, who eventually became the head of Eleutherian and tried after the war to establish a teacher's college there. They also were survived by several other children: Lucinda Craven, who married William C. Thompson; Ellen Craven, who married William Collette; and Thomas Milton Craven, who first married Elizabeth Conn in 1845 in Oxford, and after her death in 1864, he married Mary Jane "Jennie" Ford; Hermon or Harmon James Craven, who married Nancy Martin, and died in 1856 (interred in Sand Creek Cemetery in Greensburg, Decatur County, Indiana). 
According to the 1840 census, there was another child born to Thomas and Rebecca, however, information on this child is elusive.
After she became a widow, Rebecca Craven lived on her son Thomas M. Craven's farm in the Lancaster area. It is said that during the infamous Morgan's Raid – a group of Confederate cavalry marauders who terrorized northerners in Indiana, Kentucky, Ohio, and West Virginia in June and July 1863, Rebecca stayed safe in a hiding place made for her by her grandchildren in an apple orchard on her son's farm along Middlefork Creek. That land today is owned by Jerry May.
Thomas and Rebecca are buried in the College Hill Cemetery in Lancaster, Indiana, with their headstones facing south toward his beloved Eleutherian College.
* After a 1904 Kentucky state law forced segregation at Berea College, its leaders set aside funds and in 1912 established the Lincoln Institute in Eminence, Henry County, Kentucky (just outside of Louisville), a boarding school that continued to educate Black students until 1950.